Music music music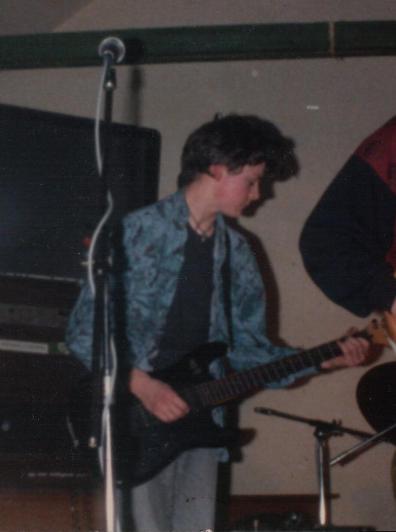 Everyone has a page about their musical tastes. Some people have CD collections, some have lyrics, some have links to their favourite bands. I used have a music page in an older collection of web pages, but I've not had one in quite a while. Until now.
My Music
I dink about with music from time to time, most recently of the electronic variety. I've some MP3s here. I also write lyrics occasionally, sometimes even without the need to piggyback on someone else's song. I'm a guitarist of some notes and a smattering of talent, but mostly useful as a focal point for sing-songs. My singing voice has been described variously as good, bad and indifferent, so it matches my guitar-playing. I also dink with pianos and other keyboarded instruments, and have been known to assault other people's drumkits despite my inability to hold a decent 4/4 beat together for more than 30 seconds.
I've long had the ability to play tunes by ear. I don't have perfect pitch, nor can I syncopate a bass line on a piano properly, nor can I sing and play something like "Day Tripper" where the guitar riff and the lyrics don't quite fit together. However, I can generally listen to a song and then pick up a guitar or a keyboard and reproduce enough of the tune to make it recognisable. I've always maintained this is sufficient for a party.
Musical Influences
Or what I'd tell Rolling Stone if they asked, maybe. When I was a kid, my brothers listened to Iron Maiden, AC/DC, Black Sabbath, Meatloaf, Deep Purple, and the like. There was also a copy of Queen's Greatest Hits knocking around, and at least one of my brothers was a U2 fan pretty early on - about 1985 or so. The other source of musical exposure was from road trips with my dad, who listened to the likes of Makem & Clancy (why does Liam Clancy sing all the songs? Because Tommy Makem, boom boom) and A Feast Of Irish Folk. This gave me some pretty mixed influences right from the start. The first band I can remember being a fan of was Adam and the Ants, one of the more successful of the New Romantics in the late seventies/early eighties. Sort of Glam Rock meets Pop, retaining the gladrags of the former and the chart success of the latter.
I started learning both guitar and piano in the early eighties, doing formal lessons in piano and exams for the first two or three grades before getting tired of the rigour of practice and playing music I didn't like. Guitar lessons followed a similar style, although I never took exams. I made a start on learning classical guitar, decided it was largely a way of expanding your hand-span and gave up the lessons in favour of amusing myself.
So back to the influences. Adam and the Ants gradually slid into oblivion and I moved to secondary school where I met a wider range of people and thus musical tastes. I got into the Pet Shop Boys, laying something of a foundation for a later interest in electronica, and I also got into my first band, a haphazard affair called "Aspect". One of my friends of the time had just joined a band himself and was becoming a stunningly talented guitarist, and he introduced me to Guns'N'Roses and the concept of speed metal guitar-playing. I have to say, listening for the first time to Slash letting rip on his Gibson was pretty astounding. My own band was more focused on a completely different style of music - the other two guys in the band were into Bowie, Japan, Sakamoto, Alphaville, and a whole mess of other stuff I'd not heard of. This led to some interesting arguments on what we should play!
By the time I got to college in 1990, Aspect had broken up (we got a drummer. he couldn't play. the band pretty much disintegrated.) and I was once more in a sea of new musical influences. From the DSPs, I got Sisters Of Mercy, the Cult, Warren Zevon, and all manner of dark, depressing music (there was a running joke about DPNFM, or "Depression FM", the official DSP radio station); from my housemates, a bunch of final-year students several years my senior, I got Pink Floyd, Jimi Hendrix and Neil Young; and from my girlfriend, I got Enigma and the KLF. Now, you try mixing all those together and see what happens... I joined a new band, "The Spawny Gits", which was formed solely for a competition. We played rock, and the lead guitarist introduced me to the music of Joe Satriani, which blew me away in much the same way as Slash had in 1987 or thereabouts. Post-competition, I got into a punk band with some fellow engineers; we called ourselves "Bummer" and took to the stage with little or no practice to play Pixies, Dead Kennedys and The Clash. After two gigs, the second of which was shut down "for inciting violence and hatred in the crowd" (some guy hopped his head off a wall while moshing, and cut himself), we split up.
Things pretty much stagnated for a while after that, until I moved to Dublin and started going out with a girl who was into Ministry of Sound and big dj/club music. The club scene in Dublin was just starting to take off in a big way, and we went to a Ministry of Sound gig which pretty much knocked my socks off. Shortly after that, I went to see the Chemical Brothers and The Orb playing back to back in Boston, and that pretty much carved big beat electronic music into my head. As best I can put it, it's dance music for people who like rock, or rock music for people who like dance. Apollo 440 are probably the best of the crossover bunch in this respect, but it's hard to ignore the Chemicals when they're in the middle of a kicking track like "Block Rockin' Beats".
More recently, I've taken an interest in rap, at least partly due to the wild success of Eminem. I've little time for Gangsta Rap as an entity in itself; I'm more interested in the tracks with the big musical hooks and the clever lyrics. I've also taken to paying close attention to MTV's "Rated and Recommended" and "Brand New" both of which turn up an astonishing number of absolute gems despite being embedded in the mainstream marketing orgy that is Music Television.
I've left out a bunch of stuff here, but I'm sure you can read between the lines and check the disc list below to see what else is going on. The bottom line, for me, is generally interesting, gut-reaction music; the killer piano work in Britney Spears' "...Baby One More Time" guaranteed it a place in the collection, and the rather incredible finger-picking on "Duelling Banjos" made it a must-buy. So it looks like, for the time being, my music collection will be expanding in all directions simultaneously.
Other People's Music
This is the CD collection bit. I had a pretty decent CD collection up to about 1997 or so, when someone liberated it from my apartment along with my TV, VCR, diskman and cassette collection. I've not gotten around to replacing it all, and some of it I can't easily replace. Funnily enough, they did leave behind the most valuable piece of music media in the apartment - a numbered copy of U2's first single.
I had started writing bits about each album I own, and then I resorted to ripping the entire collection (except the Minstry Of Sound compilations and similar mixdiscs where you can't properly separate the tracks) to MP3 so I could feed the lot to a heavily modifed version of Gronk. Then I got a Mac, which over time meant that Gronk was replaced with iTunes and the CDDB files I used use to feed this page became redundant. Now I've got a crappy piece of python that scrapes out what it thinks is a list of albums I have in iTunes, made slightly complicated by the fact that it doesn't run on the machine where the master copy of the iTunes library lives... This list gets updated whenever I do an upload to the site. I have some comments to attach to various of the artists listed below, but I've currently broken the generator for that and not repaired it, so you'll have to just wonder why I have some of this stuff and move on.
1 Giant Leap / 1 Giant Leap
A House / On Our Big Fat Merry-Go-Round
A-Ha / Headlines And Deadlines
ABBA / ABBA Gold
AC/DC / The Complete Collection
Aerosmith / Devil's Got A New Disguise: The Very Best Of Aerosmith
Air / Premiers Symptomes
Aisth / Promotional Demo
Akasha / Cinématique The Remixes (Disc 2)
Akasha / Cinématique The Remixes (Disc 1)
Alabama 3 / Woke Up This Morning (From "The Sopranos") - Single
Alanis Morissette / The Very Best
Alanis Morissette / Jagged Little Pill Acoustic
Alicia Keys / Songs In Aminor
Amerigo Gazaway of Gummy Soul / Fela Soul
Amy Winehouse / Back To Black (Deluxe) CD2
Apollo 440 / Dance Nation 3 (Disc 2)
Apollo 440 / Electro Glide In Blue
Apollo 440 / Gettin' High On Your Own Supply
Apollo 440 / Millennium Fever
Apollo 440 / Lost In Space (Theme) (single)
Arcade Fire / Neon Bible
Arcade Fire / Funeral
Atmosphere / God Loves Ugly
Atmosphere / Strictly Leakage
Atmosphere / To All My Friends, Blood Makes the Blade Holy - The Atmosphere EP's
Atmosphere / You Can't Imagine How Much Fun We're Having
BBC Radio / Good Omens
Badly Drawn Boy / The Hour Of Bewilderbeast
Barenaked Ladies / Stunt
Barenaked Ladies / Stunt (Bonus Live CD)
Basement Jaxx / Remedy
Bastille / Pompeii (Remixes) - EP
Beastie Boys / Hello Nasty
Beastie Boys / The Sounds Of Science (Disc 2)
Beastie Boys / The Sounds Of Science (Disc 1)
Beastie Boys / Check Your Head
Ben & Jason / Hello
Bentley Rhythm Ace / BRA
Bentley Rhythm Ace / Bentley's Gonna Sort You Out - EP
Binary Finary / 1999 (single) (Disc 2)
Blackstreet / Another Level
Blackstreet / Fix (single)
Blink 182 / Enema Of The State
Blink 182 / Enema Of The State (Live Disc)
Blondie / Blondie: Greatest Hits
Bloodhound Gang / Hooray For Boobies
Bloodhound Gang / One Fierce Beer Coaster
Blue Boy / Dance Nation 3 (Disc 1)
Blur / Parklife
Blur / The Best Of
Bob Dylan / Oh Mercy
Bob Dylan / The Best of Bob Dylan
Bob Dylan / Greatest Hits, Vols. 1-3
Bob Dylan / Highway 61 Revisited
Boris Dlugosch / Never Enough (single)
Bran Van 3000 / Discosis
Bran Van 3000 / Glee
Bren Vaughan / Black On Grey
Brett Somers / Unknown Album
Britney Spears / ...Baby One More Time (single)
Bruce Springsteen / Greatest Hits
Bruce Springsteen / The Essential
Bryan Adams / When You're Gone
Bryan Adams / Reckless
Buena Vista Social Club / Buena Vista Social Club
Bushbabies Feat. Dex / The Annual II (Disc 2)
Carmine & Francis Ford Coppola / Apocalypse Now
Cassius / Cassius 1999 (single)
Cevin Fisher / The Ibiza Annual (Disc 1)
Chris Cornell / Carry On
Chris Von Sneidern / Big White Lies
Cocteau Twins / Music From The Motion Picture Stealing Beauty
Coldplay / Parachutes
Compilations / Music From The Motion Picture Ocean's Eleven
Compilations / Dave Fanning's Fab 50 (Disc 3)
Compilations / Lost Property - Side A
Compilations / Music From The Motion Picture Almost Famous
Compilations / Garden Party Classics
Compilations / (Ǎhk-to͝ong Bāy-Bi) Covered
Compilations / Music From The Motion Picture The Matrix
Compilations / Sing Street (Original Motion Picture Soundtrack)
Compilations / High Fidelity Original Soundtrack
Compilations / Wagner: The Ride Of The Valkyries
Compilations / Music From The Motion Picture Boyz N The Hood
Compilations / The Best Ibiza Anthems Ever! 2K (Disc 1)
Compilations / Even Better Than The Real Thing, Vo.l 1 (Today FM Live Recording)
Compilations / Fused (Disc 1)
Compilations / Old Grey Whistle Test Blues
Compilations / Maximum 103.7FM
Compilations / Lost Property - Side B
Compilations / Summer Cruisin'
Compilations / Music For The Motion Picture PI
Compilations / Lost In Space Original Motion Picture Soundtrack
Compilations / Reservoir Dogs (Original Motion Picture Soundtrack)
Compilations / Rumble! The Best Of Link Wray
Compilations / The Departed (Music from the Motion Picture)
Compilations / Fix (single) (import)
Compilations / Road House (The Original Motion Picture Soundtrack)
Compilations / The Crow (Original Motion Picture Soundtrack)
Compilations / Trainspotting #2
Compilations / Electric Reels
Compilations / Capital Gold Legends Disc 1
Compilations / Dave Fanning's Fab 50 (Disc 1)
Compilations / Now That's What I Call a Wedding
Compilations / Roots Of Led Zeppelin
Compilations / The Cake Sale
Compilations / Vol. 2 Guardians of the Galaxy: Awesome Mix Vol. 2 (Original Motion Picture Soundtrack)
Compilations / Dave Fanning's Fab 50 (Disc 2)
Compilations / Tom Dunne's 30 Best Irish Hits (Disc 1)
Compilations / NINJA 2009 Tour Sampler
Counting Crows / August and Everything After
Cowboy Junkies / The Trinity Session
Crazy Drunk Lady / Soren's Christmas Tunes
Cross My Heart / Cross My Heart
DJ Jazzy Jeff & The Fresh Prince / DJ Jazzy Jeff & Fresh Prince: Greatest Hits
DJ Rolando A.K.A. The Aztec Mystic / The Annual 2000 (Disc 2)
Daft Punk / Homework
Damien Rice / 9
Dan Le Sac vs Scroobius Pip / Thou Shalt Always Kill
Dangerdoom / Occult Hymn
Dashboard Confessional / Dusk And Summer
David Arnold / Shaken And Stirred
David Bowie / Changesbowie
David Bowie / Earthling
David Bowie / Ziggy Stardust
David Gray / Greatest Hits
Delerium / Silence (single) (Disc 1)
Delerium / Silence (single) (Disc 2)
Delerium / Karma (Disc 1)
Delerium / Karma (Disc 2)
Depeche Mode / Ultra
Depeche Mode / Music For The Masses
Dermot Byrne / The Acoustic Catalog
Des'Ree / Supernatural
Discodroids / Deeper Euphoria (Disc 2)
Dr. Dre / 2001
Dr. Dre / The Chronic
Dr. John / Mos' Scocious (Disc 1)
Dr. John / Mos' Scocious (Disc 2)
Duffy / Rockferry
EMF / Schubert Dip
Edie Brickell & New Bohemians / Shooting Rubberbands At The Stars
Edie Brickell & New Bohemians / Ghost Of A Dog
Elevator Suite / Barefoot & Shitfaced
Eminem / Lose Yourself - Single
Eminem / The Slim Shady LP
Eminem / The Marshall Mathers LP
Enigma / MCMXC a.D.
Enigma / The Cross Of Changes
Eric B. & Rakim / Let The Rhythm Hit 'em
Eric Weissberg & Steve Mandell / Duelling Banjos
Eurythmics / Greatest Hits
Eurythmics / Peace Is Just A Word (single)
Eurythmics / Relax! The Ultimate 80's Mix (Disc 2)
Extreme / Pornograffitti
Ezra Furman & The Harpoons / Inside The Human Body
Ezra Furman & The Harpoons / Banging Down The Doors
Faithless / Sunday 8pm
Faithless / No Roots
Faithless / Saturday 3 AM
Faithless / Outrospective
Faithless / Reverence
Fatboy Slim / Halfway Between The Gutter And The Stars
Fatboy Slim / You've Come A Long Way, Baby
Feeder / The Singles
Florence & The Machine / Lungs
Frankie Goes To Hollywood / The Annual 2000 (Disc 1)
Frankie Goes To Hollywood / Two Tribes (Single)
Frantic Dogpaddle / Trush
Franz Ferdinand / Franz Ferdinand
Fugees, The / Greatest Hits
Fun Lovin' Criminals / 100% Colombian
Fun Lovin' Criminals / Come Find Yourself
Fun Lovin' Criminals / Mimosa
Fun Lovin' Criminals / Bag Of Hits (Disc 1)
Fun Lovin' Criminals / Bag Of Hits (Disc 2)
Fun Lovin' Criminals / Loco
Garbage / 2.0
Garbage / Garbage
George Michael / Listen Without Prejudice
George Michael & Mary J. Blige / As (single)
Gerry Ryan / Unknown Album
Gigi D'Agostino / A Journey Into Space
Gomez / Rhythm & Blues Alibi (single)
Gomez / Liquid Skin
Gomez / Bring It On
Gorillaz / Gorillaz
Gorillaz / Demon Days
Graeme Revell / The Crow Original Motion Picture Score
Green Day / Nimrod
Green Day / Dookie
Green Day / Warning:
Green Day / American Idiot
Groove Armada / Goodbye Country (Hello Nightclub)
Groove Armada / Vertigo
Guns N' Roses / Use Your Illusion II
Guns N' Roses / Appetite For Destruction
Guns N' Roses / The Spaghetti Incident?
Guns N' Roses / Use Your Illusion I
Guns N' Roses / Lies
Halloween Jack / She (Song for DB)
Hans Zimmer & Lisa Gerrard / Gladiator (Soundtrack from the Motion Picture)
Happy Mondays / Pills 'n' Thrills And Bellyaches
His Name Is Alive / Remixes
Honest Bob And The Factory-To-Dealer Incentives / Second & Eighteen
Honest Bob And The Factory-To-Dealer Incentives / It's Not As Bad As I'm Making It Sound
Hootie & The Blowfish / The Best Of
Horslips / The Tain
Horslips / Tracks From The Vaults
Horslips / The Horslips Greatest Hits
Hot 8 Brass Band / Rock With the Hot 8
Hot Chip / The Warning
Howard Jones / The Best Of Howard Jones
Huey Lewis & The News / Fore!
Huey Lewis & The News / Sports
Hurley & Todd / 'Pure' Euphoria (Disc 2)
Hybrid / Euphoria (Disc 2)
Imagine Dragons / Night Visions (Deluxe)
Incubus / Morning View
Interpol / Antics
JK2 / Debutante
Jack L / Universe
Jack Lukeman / Wax
Jakatta / American Dream (single)
Jakishan / The Darjeeling Limited
Jamiroquai / Synkronized
Jamiroquai / Travelling Without Moving
Jazzy Jeff & Fresh Prince / Homebase
Jean-Michel Jarre / Oxygène (30eme Anniversaire)
Jeff Buckley / Grace
Jeff Wayne / Highlights from "The War of the Worlds"
Jewel / Spirit
Jewel / Pieces Of You
Jim Morrison / An American Prayer
Jimmy Eat World / Invented (Deluxe Version)
Joe Satriani / Surfing With The Alien
John Kennedy / Songs From The Spare Room
Johnny Cash / American III: Solitary Man
Jon Bon Jovi / Hit Collection
Jon Bon Jovi / Hit Collection 2000
Josh Wink / Euphoria (Disc 1)
Joy Division / Substance (1977-1980)
Jungle Brothers / V.I.P.
Juno Reactor / Transmissions
KONGOS / Lunatic
KT Tunstall / Eye To The Telescope
Kaiser Chiefs / Employment
Katie Melua / Piece by Piece
Katie Melua / Call Off The Search
Kings of Leon / Only By The Night
Kurt Sanderling; Bavarian Radio Symphony Orchestra; Royal Concertgebouw Orchestra / The 5 Piano Concertos
LCD Soundsystem / Sound Of Silver
La Banda Municipal del Polo Norte / Corazón o Nada
Led Zeppelin / Led Zeppelin IV (Remastered)
Leftfield / Wipeout 2097: The Soundtrack
Leningrad Cowboys / Happy Together
Lenny Kravitz / Are You Gonna Go My Way
Lightning Seeds / Jollification
Lights On The Highway / Lights On The Highway
Lisa Hannigan / Sea Sew
Lisa May / The Annual II (Disc 1)
Lou Bega / Mambo No. 5 (A Little Bit Of ...) (single)
Lucid / Adrenalin (Disc 1)
Lucy Pearl / Lucy Pearl
MC Solaar / Paradisiaque
MC Solaar / Qui Sème Le Vent Récolte Le Tempo
MC Solaar / Prose Combat
MF Doom / Rhymesayers 2005 Label Sampler
MGMT / Oracular Spectacular
Madonna / Ray Of Light
Manel / Els millors professors europeus
Manic Street Preachers / Everything Must Go
Marillion / Fugazi
Marillion / A Singles Collection
Marillion / Clutching At Straws
Marina & the Diamonds / Hollywood - EP
Marina & the Diamonds / The Family Jewels
Mark Ronson / Version
Massive Attack / Blue Lines
Massive Attack / Mezzanine
Matchbox 20 / Yourself Or Someone Like You
Melanie C / Northern Star
Metric / Fantasies (Deluxe Version)
Michael Cera And Ellen Page / Juno OST
Mike Oldfield / Tubular Bells
Mishima / Ordre i aventura
Morrissey / Greatest Hits
Mousse T. Vs. Hot 'n' Juicy / The Annual IV (Disc 2)
Mr. Oizo / Flat Beat (single)
Muse / The Resistance
Muse / Black Holes & Revelations
Muse / Hullabaloo (Disc 2)
Muse / Absolution
Muse / Showbiz
Muse / Hullabaloo
Muse / Origin Of Symmetry
Muse / Survival
Mutefish / Zeby To Byto Spoko
My Chemical Romance / Three Cheers For Sweet Revenge
My Chemical Romance / Life On The Murder Scene
My Chemical Romance / The Black Parade
My Life With The Thrill Kill Kult / The Beast Of TKK
Natalie Imbruglia / Left Of The Middle
Natasha Bedingfield / Unwritten
Neon Wolf / Love Lost In Design - EP
New Order / Relax! The Ultimate 80's Mix (Disc 1)
Nick Glennie-Smith, Hans Zimmer And Harry Gregson-Williams / The Rock
Nickelback / All The Right Reasons
Nickelback / Silver Side Up
Nickelback / Photograph
Nickelback / MTV Unplugged
Nigel Gee / The Best Ibiza Anthems Ever! 2K (Disc 2)
Nine Days / The Madding Crowd
Nine Inch Nails / Further Down The Spiral
Nine Inch Nails / Broken
Nine Inch Nails / The Slip
Nine Inch Nails / Y34RZ3R0R3M1X3D
Nine Inch Nails / The Downward Spiral
Nine Inch Nails / Year Zero
Nino Rota / The Godfather (Original Motion Picture Soundtrack)
Nirvana / MTV Unplugged In New York
Nirvana / Nevermind
No Doubt / The Singles 1992-2003
Oasis / Stop the Clocks
Oasis / Only The Singles (1994 - 2007)
Organic Noise / Vacuum Tube
Oui 3 / Break From The Old Routine (single)
P. J. Harvey / Stories From The City, Stories From The Sea
Papa Roach / Infest
Passengers / Original Soundtracks 1
Pat Ingoldsby / Let Me Into Your Head
Penny Broadhurst / Blue Bank
Penny Broadhurst / London / LJaded (Single)
Pet Shop Boys / Disco 3
Pérez Prado and His Orchestra / Orquesta Damaso Perez Prado Hoy
Pink Floyd / Wish You Were Here
Pink Floyd / The Dark Side of the Moon (2011 Remastered)
Pink Floyd / The Dark Side Of The Moon
Pink Floyd / The Division Bell
Placebo / Placebo
Placebo / Black Market Music
Placebo / Without You I'm Nothing
Plague Monkeys / Surface Tension
Planet Funk / Chase The Sun (single)
Progress Presents The Boy Wunda / Everybody (single)
Propellerheads / Decksandrumsandrockandroll
Public Enemy / Fear Of A Black Planet
Public Enemy / Nothing Is Quick In The Desert
Puff Daddy / Come With Me (single)
Queen / Best Ballads
R.E.M. / Green
R.E.M. / New Adventures In Hi-Fi
Radio Free Vestibule / Sketches Songs And Shoes
Rage / Incoming Soundtrack
Rage Against The Machine / Rage Against The Machine
Rage Against The Machine / The Battle Of Los Angeles
Rage Against The Machine / Evil Empire
Red Delicious / Emotional Blur
Red Delicious / Acoustical Blur
Red Hot Chili Peppers / Blood Sugar Sex Magik
Red Hot Chili Peppers / Californication
Red Hot Chili Peppers / By The Way
Republica / Republica
Richard Cheese / Lounge Against The Machine
Richard Cheese / Tuxicity
Rihanna / SOS - Single
Robbie Williams / Life Thru A Lens
Robbie Williams / I've Been Expecting You
Robbie Williams / Sing When You're Winning
Roberta Flack / Softly with These Songs: The B
Roger Waters / Amused To Death
Run-DMC / Run-DMC: Greatest Hits
SEAC Ensemble / Psychological Benefits Fairly Quickly
Sagitaire / 'Pure' Euphoria (Disc 1)
Santana / Supernatural
Seal / Seal
Semidome / Nightgate
Shamen / En-Tact
Shamen / On Air
Shamen / In Gorbachev We Trust
Shamen / Collection (Disc 2)
Shamen / Collection (Disc 1)
Shawn Mullins / Soul's Core
Shea Seger / Last Time (single)
Sheryl Crow / Special Edition (Disc 2)
Sheryl Crow / Special Edition (Disc 1)
Sheryl Crow / Tuesday Night Music Club
Shrink / The Ibiza Annual (Disc 2)
Skunk Anansie / Stoosh
Slash / Slash
Snow Patrol / Final Straw
Something Happens / Stuck Together With God's Glue
Soul Coughing / El Oso
Stereophonics / Decade In The Sun - Best Of Stereophonics
Sting / The Last Ship (Deluxe)
Sting & The Police / The Very Best Of ...
Stone Roses / The Stone Roses
Stone Roses / Second Coming
Sugababes / Three
Sugababes / Freak Like Me (single)
Sum 41 / All Killer No Filler
Supergrass / In It For The Money
Supergrass / I Should Coco
Susan Enan / Moonlight / Skin, Bone & Silicone
Suzanne Vega / Suzanne Vega
Svidden / We Are - Single
Tenacious D / Tenacious D
Teque & Sami Virtanen / 3DMark2000 Soundtrack
The Aloof / Fused (Disc 2)
The Avalanches / Since I Left You
The Beatles / Love
The Beatles / Yellow Submarine
The Beatles / Please Please Me
The Beatles / Rubber Soul
The Beatles / Abbey Road
The Beautiful South / Quench
The Beta Band / Hot Shots II
The Blizzards / A Public Display Of Affection
The Cars / The Cars Greatest Hits
The Chemical Brothers / Brother's Gonna Work It Out
The Chemical Brothers / Surrender
The Chemical Brothers / Exit Planet Dust
The Chemical Brothers / Leave Home (single)
The Chemical Brothers / Dig Your Own Hole
The Cranberries / Stars (The Best Of 1992-2002)
The Crystal Method / Vegas
The Cult / Pure Cult
The Cure / Mixed Up
The Cure / Wild Mood Swings
The Cure / Bloodflowers
The Cure / Galore
The Cure / Disintegration
The Cure / Staring At The Sea
The Cure / 4:13 Dream
The Dandy Warhols / Come Down
The Don / The Annual IV (Disc 1)
The Doors / The Best Of
The Evolution Control Committee / Plagiarhythm Nation V2.0
The Flying Pickets / The Original Flying Pickets Vol. One
The Fratellis / Costello Music
The Georgia Satellites / Let It Rock...Best of Georgia Satellites
The Goo Goo Dolls / Dizzy Up The Girl
The Hopefuls / Prypee
The Housemartins / Now That's What I Call Quite Good
The Justified Ancients Of Mu Mu / It's Grim Up North
The KLF / Unknown Album
The KLF / Chill Out
The KLF / The White Room
The Killers / Sam's Town
The Killers / Sawdust
The Killers / Day & Age
The Killers / Hot Fuss
The La's / The La's
The Magnetic Fields / The Charm Of The Highway Strip
The Md X-Spress / Ministry Of Sound Classics
The Offspring / Americana
The Orb / U.F. Orb
The Orb / The Orb's Adventures Beyond The Ultraworld (Orbit Disc)
The Orb / The Orb's Adventures Beyond The Ultraworld (Ultraworld Disc)
The Pixies / Death To The Pixies
The Poxy Boggards / I Wear No Pants: The EP
The Poxy Boggards / Anchor Management - Digital Edition
The Riptide Movement / What About The Tip Jars?
The Riptide Movement / Hard To Explain (single)
The Rolling Stones / Rolled Gold +
The Sisters Of Mercy / A Slight Case Of Overbombing
The Stranglers / All Twelve Inches
The Tycho Brahe / This Is
The Tycho Brahe / Love
The Tycho Brahe / Life
The Verve / Urban Hymns
The Wannadies / Be A Girl
The Williams Fairey Band / Jeremy Deller Presents Acid Brass
The Wiseguys / The Antidote
Tigermonkey / Zooby Doo - Single
Tilt / Deeper Euphoria (Disc 1)
Titán & La Mala Rodríguez / Y Tu Mamá También
Tom Jones / Reload
Tom Petty & The Heartbreakers / Greatest Hits
Tom Waits / Bounced Checks
Tom Waits / Small Change
Tori Amos / Adrenalin (Disc 2)
Tori Amos / Little Earthquakes
Treekillaz" / Oxygently
Treekillaz" / Indiva
Tricky / Maxinquaye
U2 / Zooropa
U2 / Pop
U2 / October
U2 / The Joshua Tree (Super Deluxe)
U2 / Songs of Experience
U2 / Wide Awake In America [Live] [EP]
U2 / The Unforgettable Fire (Deluxe Version) [Remastered]
U2 / Under A Blood Red Sky
U2 / The Best Of 1980-1990 & B-Sides (Disc 2)
U2 / The Best Of 1980-1990 & B-Sides (Disc 1)
U2 / All That You Can't Leave Behind
U2 / How To Dismantle An Atomic Bomb
U2 / Achtung Baby
U2 / Beautiful Day EP
U2 / Please (Popheart Live EP)
U2 / Rattle And Hum
Unknown Artist / Beethoven For Meditation
Utah Saints / Utah Saints
Utah Saints / Two
Various / William Shakespeare's Romeo + Juliet (Volume 2)
Veracocha / Carte Blanche
Vetusta Morla / Un día en el mundo
Waider / Loops
Waider / Dance eJay
We Are Smug / We Are Smug
Wildchild / Renegade Master 98 (single)
Will Smith / Wild Wild West (single)
Will Smith / Big Willie Style
William S. Burroughs / Spare Ass Annie And Other Tales
Wyclef Jean / The Ecleftic (2 Sides II A Book)
X / X-Files (single)
ZZ Top / Eliminator


519 CDs in the jukebox.

Thanks to Lloyd for tipping me off on these guys a good year before they became anyone. Dance music for rockers, I think, is probably the best approximation.
I like him best as Ziggy Stardust, even though I wasn't a fan then. The Rise and Fall of Ziggy Stardust used be the only album I had, although I enjoyed Changes (the most recent one) as well. Earthling is part of his drum-and-bass reinvention.
Possibly just Edie Brickell now. I bought their first album 'cos I had a crush on someone who looked like Ms. Brickell... ps this is true. Anyway, the music is good, the lyrics are nice and sharp in a subtle kind of way, and there's a mad cajun-type bash on side two of Shooting Rubberbands At The Stars (hah! remember SIDES?) called "Keep Comin' Back" which has kind of appropriate lyrics given my reasons for getting the album :)
The people who put sex into ambient dance music. Which, by the way, has got to be the stupidest label ever invented for a music genre. Apart from, maybe, the New York No-wave scene. Anyway, as the first album suggests, turn off the light, take a deep breath, and relax. What you do after that is your own business.
Same guys, similar music. More excellent background music for when you're otherwise engaged.
Nuno Bettencourt (Extreme's guitarist, songwriter, arranger, general all round nice guy) is God's gift to shampoo adverts. He possessed (it is some years since I have seen this band live) approximately two to three feet of glossy black hair, and it was not due to grease. Mind you, that's not my reason for liking them; Mr Bettencourt is an obscenely talented young man and sat on a bar stool on stage in the SFX, Dublin playing 200 notes per minute without looking even vaguely stressed. Apparently their drummer is Irish too. I used have two of their albums, Pornograffiti and III sides to every story. Hard to say which is better; the former features rock, metal, rap, funk, classical (sorta) and a 1920's croon, while the latter features a 70-piece orchestra.
I bought the greatest hits album solely for Two Tribes with its industrial strength bass line. Great for driving music. Beach *who*? Nah, bunch of namby-pamby wusses. FGTH, who went to number one in the UK and had their videos banned, and who probably insulted a whole pile of people all over the world. Cool.
. Also known as Tony St. James and something else which I can't think of at the moment. An Irish piss-take band, as the Joshua Trio they mock U2. Front man Paul Wonderful has been seen wandering around Bono's Ballymun home, wearing a pendant with a picture of Bono on it. The band released their country and western version of The Fly on cassette single, and I added it to my collection. It's classic C&W, with absolutely perfect harmonies and really neat guitar work. The B-side is a 20's retake of Where the Streets Have No Name which features a whistling solo.
("also known as the Justified Ancients of MuMu, furthermore known as the JAMs"). Another excellent samples band (I wrote the entry for Utah Saints before this one...) although they seem to only sample their own stuff, aside from a quick clip from The MC5 and crowd samples from U2 and The Doors live albums. This band becomes a whole lot funnier if you read Robert Shea and Robert Anton Wilson's classic underground Illuminatus! trilogy. The KLF have the dubious distinction of being sued by Abba for sampling rather a lot of Dancing Queen. I guess this is why they've since sampled their own stuff instead. Good videos too.
I'm not a puritan: I don't believe Fish leaving Marillion was the best/worst thing that happened to the band. In fact, if you listen to their singles album, you'll be hard pushed to see any real difference between the old and new bands. I think someone told me that they've since broken up. Pity. Great music for low lighting and that special someone. Or, like Ralph, great music for blowing through tiny headphones while hacking your final year project.
It's kinda trendy to like them, isn't it? But no, I'm not a grunge maniac (although I have been known to slamdance) and I'm not particularly interested in being "trendy". I possess a copy of Nevermind on CD and I think that some of the lyrics are quite amusing - "Sell the kids for food", for example (from "In Bloom"). Musically, they're good but not overly distinctive - any Soundgarden/Smashing Pumpkins/Pearl Jam fans will tell you that their band did it before Nirvana, etc. etc. I don't particularly care.
I bought U.F.Orb after listening to a full 10 seconds of my friend's copy of it. Very weird stuff. Best listened to while very tired and spaced out, since you'll probably get bored if you sit down with the intention of paying attention to the album. My favourite track is Towers of Dub, a lovely piece of reggae with a really groovy bassline provided by Jah Wobble. From the second album listed - Adventures Beyond The Ultraworld - who *doesn't* like Little Fluffy Clouds?
The Man Who Makes His Guitar Talk. Incredible guitar work on an album devoid of any lyrics (Surfing with the Alien) because it doesn't need them. You can hear his guitar scream (honest!) on track 1, the title track. Mind you, it's not all stomping metal; in fact, I think only one of the tracks is really "metally" - most of this stuff is more hard rock guitar solo spun out to make an entire song. There's also a slow track or two on the album.
One of my favourite bands at the moment; lots of nice chunky bass sounds (see Utah Saints) and some bizarre new-age lyrics - "motivating rhythm of life with a cultural revival, this is survival/natural magical patterns of percussion is the discussion so listen up close/let it connect you to the powers that be with a healing rhythmic synergy/to a technotribal, positively primal shamanic anarchistic archaic revival" (from "Boss Drum", from the album of the same name). Another track on the same album is five minutes of Terence McKenna, new age guru/shaman/weirdo (take your pick), pontificating on the nature of time and such like. The nice thing is that Mr. McKenna is also mentioned by another one of my favourite artists, author Robert Anton Wilson who in turn is linked to The KLF.
I think they've broken up; I saw a TV interview with them which certainly gave the impression that they were in a "Oh well, that was it..." kind of mood; I'm not familiar with much beyond the second album (Stuck Together with God's Glue) but they're a very good example of "traditional" Irish rock. Looked like the next big thing (or the next U2, as the phrase went at the time) for a while, but never quite seemed to crack it. My favourite song has to be "Hello, hello, hello, hello, petrol" (the last word being a reference, apparently, to the fact that the song sounds like something from That Petrol Emotion) which features Ray "Harmonics" Harman at his abusive best making very noisy sounds with a guitar. Recently the lead singer, Tom Dunne, has become quite the capable DJ on Today FM, and the band occasionally get together for a gig in Whelans. Just like the good old days, sort of.
Absolutely fantastic dance music, samples from Kate Bush, the Eurythmics, Motorhead... really stomping bass. Good live show too, with the frontman playing a wide variety of instruments including something that looked like a guitar neck attached to a DustBuster[tm], and the most amazing live DJ work I have seen in my life. The second album has a huge number of samples of Michael Stipe talking, and one of the tracks ("Sick") sounds rather like the music from the rave in the movie "Go".
I like pretty much all of their stuff, although like most people I think October is a bit of a let-down after their brilliant debut album, Boy. I am also the proud owner of a copy of their first single, U2-3, of which only 1000 were produced. These people know how to warp your mind in a live show - Zoo TV has to be experienced live to be believed, and the spinning spotlights for "Discotheque" on the Popmart tour turned Lansdowne Road into a cheesy disco for the duration of the song.
Covering assorted Bond themes in dance music. Not as good as I expected. I think it's actually missing the track I bought it for, as in I thought someone else's Bond Theme (Moby?) was going to show up as part of this collection.
NO! SLEEP! TIL BROOKLYN!!!! You know, I can perform the entire of the Stutter Rap, which is a pisstake of these guys. Why you need to take the piss out of a band that mock themselves is beyond me, but hey. Whatever floats your boat.
So the HouseMartins split up, and effectively live on anyway. If you liked the 'martins, you'll like this, as it's much the same stuff.
I bought the album and two singles before I found the track I was looking for, a US release of "Fix" featuring ODB from Wu Tang and Slash from G'N'R. "No Diggity" is pretty good as well. The Jesus stuff on the album, well, uck. You can just scratch it.
There was a time in the 90s when these guys looked like genuine contenders for Oasis' crown, such as it was, and I was half-hoping they'd take it, because they came across as a far nicer bunch of guys than the Gallagher brothers. Turns out they were more concerned with making music that interested them than music that sold well. Commercial death, but some of the results are truly excellent.
---
Waider
I'm with the band.